Kayaking, All You Need to Know to Get Into the Sport! | Beyonk Blog
There's different types of kayaking and various routes for getting into the sport. Read this kayaking guide for everything you need to get started.
Canoeing and Kayaking are excellent ways to get fit, have fun and get outdoors. From quick paddles, to epic kayaking expeditions, there's fun to be had for all. Kayaking can be done as a one off recreational activity or can be part of a bigger adventure, with camping, fishing or photography added on. They allow you to get up close and personal with nature, see the world from a different perspective and feel truly immersed in the natural environment.
There's different types of kayaking and various routes for getting into the sport. Read this kayaking guide for everything you need to get started, including:
What is Kayaking? (obvious right?)
What's the Difference between Canoeing and Kayaking?
What are the different types of Kayaking?
Who is kayaking suitable for?
What kayaking equipment do I need?
How to get started with kayaking?
What are the best places for kayaking?
There's a lot of content here, so skip through the parts you're not interested in!
What is Kayaking?
Kayaking is a watersport that involves sitting in a small watercraft, propelling yourself through the water with a double-sided paddle. There are many uses for kayaks and therefore many different designs, optimised for the different activity.
What is Canoeing?
Canoeing is a watersport that involves paddling a small watercraft, propelling yourself through the water with a single-bladed paddle.
What's the difference between kayaking and canoeing?
If you're new to the sport, one of the most commonly asked questions is what the difference between a kayak vs canoe. The easiest way to distinguish between kayaking and canoeing is the type of paddle used. A double-bladed paddle is used for kayaks and a single-bladed paddle is used for canoes. Canoes are the mophead of the motorbike world and kayaks are the superbikes of the motorbike world. Canoes are built for being a sturdy transport vessel, with often a deeper and wider place to sit than kayaks. This offers more stability and even space to store kit and equipment. Canoes can be great for going out with your family and friends in the same boat and exploring the river together. Whereas kayaks are often better suited for singles and sometimes doubles and can be much faster due to their design. In a canoe you'll typically kneel facing forwards but in a kayak you'll typically have your feet facing forwards, being fully sat down in the boat. Whilst canoes are sturdy, this does not mean kayaks aren't. There are a few different types of kayak and some are incredibly stable too, with basic recreational kayaks built to be accessible and stable.
The below is a video outlining the difference equipment for kayaking and canoeing at the elite level. But most kayaks and canoes differ from the elite equipment referenced in this video, but it's still a good instructional video, so here goes...
Is it easier to kayak or canoe?
In terms of which sort of boat is better suited for beginners, there isn't a straightforward answer. Both are accessible and are suited to a broad range of people. Your best bet is to try out both and see which one you prefer. It isn't quite like other sports where one is better suited for a beginner. In kayaking, you can start off in less 'aggressive' non-racing, recreational kayaks, which are a great way to get used to the sport before using more specialised equipment. As you progress, you can start to use more specialised equipment making you better suited to the sport.
Different types of Kayaking
There's a wide-range of different kayaks built specifically for different purposes. It's always a trade-off of stability, speed, maneuverability and weight-bearing capacity. The below are some of the major categories of Kayaks, although there are several sub-categories and combinations, including 'cross-overs' which are a combination of different types of boats (normally a combination of the recreational kayaks with the more specialised kayaks to enable a more diverse range of water to be paddled).
Of all kayaks, one of the main differences is whether they're sit-in, or sit-on. Sit-in kayaks have a closed hull with your legs enclosed within the cockpit. These are used more often in cold water conditions, with a spray skirt fitted to avoid water seeping into the cockpit, keeping you dry. The downfall is that, when capsizing you need to have some experience of how to exit and re-enter and then drain your kayak. The alternative is a sit-on kayak, which is more accessible to beginners (not needing any skill on how to exit and re-enter on capsizing). Any small splash, or waves, can make your legs wet, so these boats are better suited for warmer conditions. The main categories of kayaks are as follows.
Recreational kayaks
Recreational kayaks are built for the everyday kayaker who wants to get out and explore waters for a few hours, in relatively calm waters. They're the most common kayak you'll see, catering to a mass market audience. They're built relatively short (from 2.7 meters upwards) to make it easier to store them and to make them more robust. Stability is chosen over speed, with a wide lateral design and the ability to handle more weight load. They have larger cockpits, making it easier to get in and out of the boats.These kayaks are designed for being accessible, stable and robust solutions to get into the sport. Used for all sorts of kayaking activities including kayak fishing and kayak photography.
As kayaking becomes evermore popular, manufacturers are coming up with innovative ways to capture consumers' attention with inflatable kayaks and even folding kayaks, optimised for storage and ease of use. Recreational kayaks can be both sit-in and sit-on.
White water kayaks
White water kayaks are designed to tackle fast flowing water, being short in length (1.3 meters and upwards) to maximise their responsiveness to the kayaker for optimal maneuverability. If you look at them side on, out of the water, you'll notice a pronounced curvature from the bow (front) to the stern (back) of the boat's hull (bottom of the boat). This reduces the boats chances of catching currents and becoming temporarily submerged, aiding for the maneuverability of the boat in rougher waters.The curvature of the hull from bow to stern is known as 'rocker', with the higher amount of curvature giving the boat more rocker. White water kayaks are sit-in kayaks.
Touring Kayaks and Sea Kayaks
Touring kayaks are longer than other kayaks at anywhere above 4 meters long, which helps to improve speed and efficiency through the water. They can often have a rudder fitted to aid with steering, especially useful for windy or rougher water conditions.
Sea Kayaks are a variant of touring kayaks, but are optimized for, yep - you guessed it, kayaking in the sea. They have a high rocker (the curvature from the bow to stern on their hull) to help with rougher waters. Both touring and sea kayaks are sit-in kayaks.
Video of the brilliant 
Mountain Sea Guides 
on their kayaking expeditions by 
Bob Teddy Productions
Kayaking Equipment
If you're just starting out into the sport, depending on how you get involved you'll need some basic kit to get started. If you're going with a club, renting one or going on a kayak experience day or kayaking expedition, you'll often have a lot of the kit provided for you. If you're going self-guided here's a list of the typical checklist more for longer paddles - Clearly getting a boat would be a good start!
A boat (preferably without holes in)
A double-bladed paddle (if kayaking, a single-blanded paddle for canoeing)
A dry bag to keep valuables in (like your sandwiches to stop them getting soggy, oh - and you're mobile phone)
A head torch and lights to attach to your boat if it get dark or visibility worsens
Navigation devices (map and compass and electronic GPS)
Dry clothes and towel for afterwards
Sun cream/ medications and any other personal necessary items
When is the Best Time of Year to Go Kayaking?
When to go kayaking is less about the time of year and more about conditions of the water and weather at the time. If you're planning to go canoeing and kayaking, often a club, hire place or guide on an experience day or instructor course will tell you where you can paddle and whether its safe. If you're going out without an instructor, it's vital to check the flow of the river, wind conditions and weather. These can all influencer whether its a grim outing or whether it's like paradise, paddling on serene waters.
That being said, spring and summer are typically good times to go out kayaking as the weather and flow of the river is typically better than winter!
Who is kayaking and canoeing suitable for?
Kayaking and Canoeing is suitable for a wide range of people, from families, young kids and the elderly. Being a sit-down sport, the fitness requirements can be low, especially for calm water paddling. Whilst it's recommended to be able to swim in order to get involved, with buoyancy aids and in calm water, with appropriate supervision, there are still possibilities to get involved. With recreational kayaks and canoes, the accessibility through having large cock pits and stability of the boats, makes it easy to get involved. People are even taking their dogs on kayaks, showing how sturdy they can be!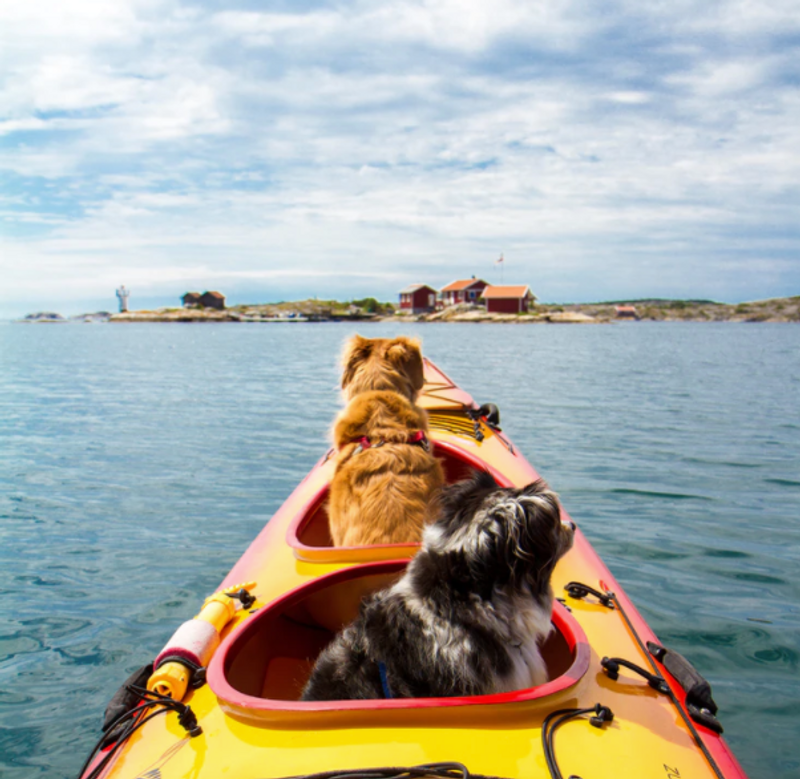 How to get started?
Getting into Canoeing and Kayaking is simple. The main routes to trying the sport out are:
Join one of our Kayaking Experience Days and or UK Kayaking Holidays
Join a Canoe or Kayak Club
Canoe or Kayak Hire
Canoe and Kayaking Holidays
Want to find a Canoeing or Kayaking Holiday? Search through some of the best canoe or kayak courses, expeditions and tours below visit: 
UK Kayaking Holidays
Join a Canoe or Kayak Club
To find your local canoe or kayak club, we've created the most comprehensive database of clubs across the UK. Either see our detailed guide on searching for 
Canoe and Kayak Clubs Near Me 
, or search our interactive map below.
Canoe and Kayak Hire Near Me
To find your local place to rent canoes or kayaks, check from one of the most comprehensive lists below, we've compiled to make it easier to get involved. Alternatively, see our full resource on 
Canoe and Kayak Hire Near Me.
What are the best places for kayaking?
Kayaking in the UK
Scotland offers canoeing and kayaking like nowhere else in the UK. Offering some of the most remote destinations, stunning mountain ranges and vast wild green spaces. It's hard to believe the Scottish Highlands are in the UK, as they offer a sense of being on the other side of the World, with incredibly mountain peaks, valleys, rivers and trails. Explore more 
Canoeing and Kayaking in Scotland 
. Want to get inspired? Watch a video on 
Sea Kayaking and Orca Whale Watching in Scotland.
Within the England, there's a wealth of great places to explore. Kayaking and Canoeing in London offers a really broad range of kayaking and canoeing. In amongst its rich history, iconic landmarks and surprising green spaces London has no shortage of memorable kayaking and canoeing tours and trips. Explore more 
Canoeing and Kayaking in London 
. For one of the Canoeing trips featured in the Guardian as 'Best Outdoor Activity Holidays'.
Set up camp on a river island in a Tipi with a wood burning stove to heat the space and an open fire.
Visit the South Coast and explore the beautiful coastline and hopefully see a seal or too. Check out 
Sea Kayak Torbay 
and book onto a trip to see the best places!
Explore the stunning coast of England with Kieran from Sea Kayak Torbay!
If you're looking to see the best of the Isle of Wight, then Adriana at Explora Expeditions offers 'beautiful trips and breath-taking expeditions!'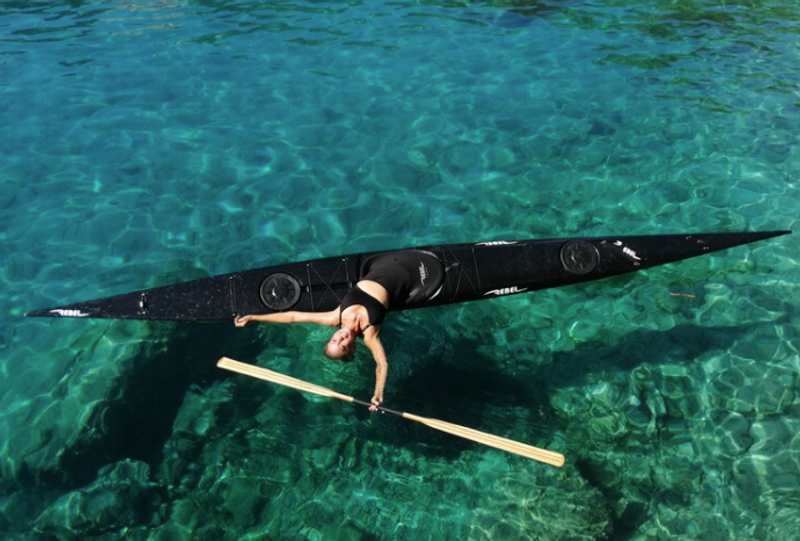 Being one of the most accessible, large green (and blue) spaces in England, there's a wealth of waterways to explore in the Peak District. From gentle paddles on Carsington Water or the Peak Forest canal to an introduction to gentle white water on the River Derwent, whatever your preference and fitness there's bound to be something perfect for you. Explore more 
Canoeing and Kayaking in Peak District 
. Go paddling with 
Chris from Peaks and Paddles 
, a leader in the Peaks for all paddling activities!
Paddle the River Derwent with Chris from Peaks and Paddles
Paddling under Wales' biggest Mountain, Mount Snowdon, offers a relaxing way to see stunning views, stunning cliffs and old slate mines. You can rent kayaks in several lakes and rivers around Mt Snowdon or in Snowdonia itself. Explore more 
Kayaking and Canoeing in North Wales.
Kayaking in Greenland
For one of the most epic kayaking experiences of a life time check out Kayaking in Greenland:
"Kayaking, hiking & whale watching trips in one of Greenland's most unique arctic environments. We go to Disko Bay which is a UNESCO World Heritage site, kayak among huge icebergs, hike to the interior, whale watch and enjoy the magical light of the midnight sun."
Kayaking in Norway
One of the most popular adventure kayaking holidays globally is visiting the stunning Norwegian Fyords and remote wilderness Norwegian enviroments. 150 - 200 km north of the Arctic Circle lies the chain of rocky peaks known as the Lofoten islands. As you paddle along beside stunning sheer waterfalls the mountains simply appear out of the sea punctuated by sandy beaches offering easy landings and amazing wild camps where you can sit in this mesmerising scenery. Learn more about 
Kayaking in Norway.
Kayaking in Slovenia
Slovenia and its Soča Valley has become one of Europe's leading kayaking destinations. Set aside the Julian Alps in the North West corner of the country, and a short drive to its border with Italy lies Europe's Emerald River, The Soča. Crystal clear water, smooth limestone gorges, and sections for a wide variety of paddlers, the Soča Valley is entrenched in history and the heart of Slovene culture. Our course and the Soča River itself is known as the best classroom in Europe, so ideally suited for beginners all the way to grade 3 paddlers who want to sharpen up their skills, become more efficient in harder water and work on nailing lines with style. Read more and get involved with 
Kayaking in Slovenia
.
Kayaking for intermediate and advanced kayakers with Lloyd Langford Expedition Training.