If you're new to the sport and want to try out outdoor climbing, one of the best ways to get involved is to find a qualified instructor or join a group of people:
Climbing instructors are a great way to 'show you the ropes' and teach you how to climb outdoors in a safe manner. Climbing can be such a risky sport if not done correctly, so going with someone with experience really is vital on your first outtings. What's more, they'll show you the best routes that will allow you to ease in or really push your limits. They can help with teaching your quick tricks to get better much more quickly. And they can are very flexible. Either go by yourself for a one-on-one session, or go along with all of your friends and they'll make sure you're all having the best rock climbing experience
Useful resources for climbing outdoors:
Tips for Climbing Outdoors
1) Climbing outdoors in a location that has more established routes and choices will help you to see the hand and foot holds, making it easier to get started. It can also be a great way to provide lots of variety to suit your ability. We've outlined some great places to get started in your outdoor climbing journey in the UK below, but alternatively your instructor will tell you what they recommend
2) Practise falling a few times and get used to the feeling of the rope capturing you and how to manage the position of your body to stay safe. Start small and build up to a slightly bigger falls.
3) Remember getting down can sometimes be more tricky, if you're bouldering, so practise getting down from your routes at a height that's safe to avoid having to jump all the way from the top of your route. If you're rope climbing, practise 'leaning back' for your partner to belay you down to get used to your equipment
4) Try the same routes a few times in a few different ways to bolster your skills and build confidence. It can often be the case that you get stuck on the same route for a long time. Go back to other routes and practise there more.
Where to go for outdoor climbing in the UK?
There are a great number of stunning locations for Outdoor Climbing in UK, so we've outlined our top picks. We've done a round-up of the best outdoor climbing locations in the UK and some specific climbs to check out to get started.
Best Outdoor Climbing 1: Peak District
The Peak District is one of the best places for climbing in UK. Its geographically central position makes it easily accessible from just about everywhere in the country. It's a popular place for hiking, and its spa towns and museums attract over ten million visitors annually. As it covers an area of over five hundred square miles, don't expect to see it all in one day!
The Peak District is one of the UK's premium climbing spots. Its geographically central position makes it easily accessible from just about everywhere in the country. It's a popular place for hiking, and its spa towns and museums attract over ten million visitors annually. As it covers an area of over five hundred square miles, don't expect to see it all in one day!
Climbers are drawn to the Peak District by the erosive result of wind and water on the landscape. Here, the effects of time and the elements have exposed the area's substrate of gritstone and limestone. Steep escarpments have been carved into layer upon layer of perfect hand and footholds. Weather-beaten boulders jut from heather covered moorland presenting the perfect climbing puzzles. The Peak District is a paradise, created by nature, for climbers.
Peak District Climbing Routes
There are well over eight hundred different climbing routes in the Peak District. That means there's a multitude of amazing challenges just waiting to be conquered for every level of climber. Even if you climbed every day for a year, there'd still be more to scale. Once you've completed a few, you'll find yourself compiling a wish list of future Peak District climbs you just have to do in your outdoor climbing adventures.
Top Spots For Bouldering In The Peak District
Top spots for Trad & Sport climbing in the Peak District
Best Outdoor Climbing 2: Lake District
The Lake District, the most scenic area in the county of Cumbria, covers around nine-hundred square miles. It's one of Britain's most famous national parks and receives over sixteen million visitors a year. Nestled among the fells, valleys and woodlands of this UNESCO World Heritage Site are England's biggest lakes. While Lake Windermere and Wast Water are incredibly beautiful, they're not what attracts climbers to the Lake District.
What makes the Lake District so appealing to climbers is the region's unique topography. Blessed with some of the country's craggiest landscapes, the Lake District is one of the best places for climbing in UK. It's also where England's highest mountain, Scafell Pike is located. Irrespective of your preferred type of climbing, the Lake District offers not only some of the best lead and trad climbing routes in the UK, but some fantastic bouldering as well.
The Lake District is a mecca to UK rock climbers. This is where it all started way back in 1886 when Walter Haskett Smith scaled Napes Needle. Even if you're not planning on climbing Napes Needle (it is classed as hard to severe), it's great to see it and pay homage to the pinnacle which originated the sport.
Top spots for bouldering in the Lake District
Top spots for Lead, Trad & Sport climbing in the Lake District
Best Outdoor Climbing 3: Portland
Portland, part of the county of Dorset, is a small island in the English Channel. Attached to the mainland by a sand causeway and no bigger than four miles by two, Portland has a centuries-old fame for the quality of its stone. Portland stone has been quarried and used for everything from reconstructing London after the Great Fire to making headstones for fallen soldiers during both world wars. The island is also popular with visitors for its connections to the D-Day sailings, its hundred-year-old lighthouses and sixteenth-century castle.What basically sets Portland apart for climbers are its limestone escarpments and stunning white cliffs. They're the reason Portland holds first place in the UK rankings for sport and lead climbing. There are some trad climbing routes in Portland but the past few years have seen them deteriorate due to the crumbly nature of the rock faces. Most climbers now avoid trad climbing in this location and prefer to climb at nearby Swanage instead. Climbing in Portland provides epic views over the seas beneath.
Top spots for Bouldering in Portland, UK
There's a multitude of bouldering venues on the island of Portland where you'll find everything from smooth limestone and flowstone faces to rocks with wave-eroded hand holds on the coastal routes. Portland has some distinct bouldering challenges which are both exciting and testing.
Top spots for Sport & Lead Climbing in Portland
Best Outdoor Climbing Location 4: Dartmoor
Dartmoor is three hundred and seventy square miles of boggy moorland in the county of Devon. These picturesque National Park lands are visited by over ten million people every year. The wilderness of Dartmoor has inspired artists and novelists to create unique masterpieces. Hiking, birdwatching and fishing are popular activities and archaeologists are drawn to explore the moors stone circles and diverse medieval remains.
What draws climbers to Dartmoor with magnetic force are the areas impressive granite tors making it one of the best places for outdoor climbing in UK. They provide climbers of all levels with some of the UK's most rugged routes in all aspects of the word.
Best spots for Bouldering in Dartmoor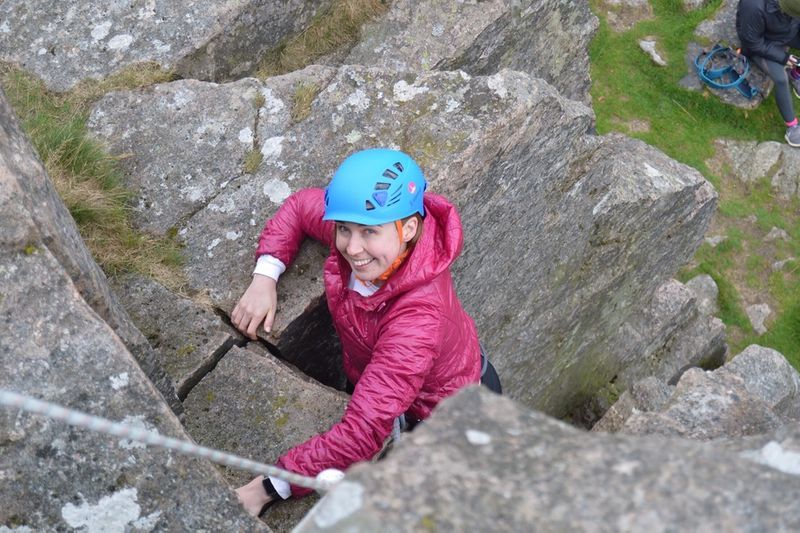 Best spots for Trad & Lead climbing in Dartmoor
Best Outdoor Climbing Location 6: Brimham Rocks
Brimham Rocks are weird and wonderful rock formations near the town of Harrogate in the Yorkshire Dales. The Nidderdale, where the Brimham Rocks are located, is one of Great Britain's areas of outstanding natural beauty or AONB. Winter or summer, it's one of the UK's favourite places for hiking, cycling and taking llama rides. Yes, you read that right, llama rides.
While llama riding may be one of Yorkshire's most popular activity, the four-legged beasts native to South America are not what lures climbers to Nidderdale. What does entice climbers to the region are the unique clusters of sandstone boulders. The Brimham Rocks cover less than a square mile of Nidderdale, but the concentration of erosion-crafted rocks are a bouldering dreamland which nature could have created just with climbers in mind.
Most of the stones have been blessed with names which vary from The Idol, The Dancing Bear to The Gorilla and The Eccles Cake because of their uncanny resemblance to their namesakes. The formation of some, like The Idol, appear to be performing a precarious, and geologically un-natural, balancing act while on the verge of tumbling over. They are though, excuse the pun, as solid as a rock.
Bouldering at Brimham Rocks
No matter where you turn at Brimham Rocks, there'll be a bouldering problem staring you in the face. It really is the place to explore and discover the one which calls to your soul. If the choice is just too bewildering and you can't decide where to start, try checking out the Cleft Buttress. As well as offering fifteen various problems, there's level ground for placing a mat and some great slabs to practice your finger-work on.
You don't even need to walk or carry your mat very far before you find your first problem at Brimham Rocks. Straight out of the car park there's a set of boulders, aptly named the Car Park Boulders. Surrounded by trees, these boulders are a great place to warm up before moving on to the main stuff.
Sport & Trad Climbing at Brimham Rocks
Brimham Rocks offers trad climbers over one hundred and fifty different routes to pit themselves against. Most of the top climbs are within a five or ten-minute walk from the car park, so there's no worry of expending all your energy before you find them. If you're feeling adventurous, go straight for the big one which is Brimham's highest buttress, Birch Tree Wall. For something not quite so challenging, head for the Cyclops which has several moderate routes in a woodland setting. Castle Rock is graded on a moderate level, but well worth having a crack at for the stunning views of the valley it sits in.
Best Outdoor Climbing Location 6: Harrison's Rocks climbing
Harrison's Rocks is a group of rocks on the outskirts of the village of Groombridge in East Sussex. The craggy sandstone tor is surrounded by the birch and conifer trees of Birchden Woods. Whilst Harrison's Rocks are the property of the BMC, or the British Mountaineering Council, the woodland around them belongs to the Forestry Commission who kindly allow climbers free access to the site. The hundred acre woods are also popular for year-round forest walks and camping. It's just a short journey from London making it a great place for outdoor climbing.
Conservation of the rock surface is a major concern at Harrison's Rocks. The sandstone is easily damaged by both climbing equipment and the constant tread of climbers shoes. The soft rock is also susceptible to damage from the friction of moving rope. For those reasons, there are strict rules set in place by the BMC to ensure its preservation. The BMC have installed bolted routes for top-roping, and as there's almost six hundred to have a go at, it hasn't affected the variety of climbs available.
Whether top-roping or bouldering at Harrison's Rocks, the BMC request all climbers to use the correct footwear, shoes with soft soles or proper shoes for climbing, particularly when on the lower graded routes. This helps keep wear and tear on the rock faces to a minimum.
Bouldering at Harrison's Rock
The North Boulder at Harrison's Rocks is a chunky hunk of over twenty bouldering problems on one rock. Independent to Harrison's Rocks, it offers up four different faces you can tackle from every imaginable angle. There's also the Eyelet Wall which has plenty of moderate routes or for something completely different go for The Cave. There are great slabs around the entrance. Whichever you choose, follow the BMC rules, and keeping chalking to a minimum.
Best Climbing in UK Location 7: Climbing Cheddar Gorge
The Cheddar Gorge is one of UK's most famous natural wonders. This British grand canyon is located in the county of Somerset and receives over half a million visitors annually. The three-mile long, limestone-walled gorge is almost five hundred feet deep, and though it forms a massive scar across the landscape, it's not visible from space. The gorge is home to many rare and endangered species of aves, insects and mammals. The wild sheep and goats which roam the cliff sides give Cheddar Gorge an almost alpine feel.
It's not only the sheep and goats who appreciate the steep walls of the Cheddar Gorge, climbers do too, as they're also one of the UK's top climbing spots. There's every type of climbing on offer on the gorge from single pitch sport, trad of all levels and the odd bit of bouldering. If you're visiting Cheddar Gorge for climbing during the summer months, then check which routes are open as some are seasonal and closed to climbers from July through to September or October.
Best climbing spots in Cheddar Gorge